Preliminary results of a longitudinal study investigating conjugal decision-making of a breast reconstruction for breast cancer. 
SCIENTIFIC POSTER
Case study of a woman with mastectomy for breast cancer: What concern for breast reconstruction.
Purpose
We are conducting a qualitative study to investigate how women and their partners make the decision to have or not a breast reconstruction for breast cancer, from the diagnosis to one year after. For this presentation, preliminary results will be presented with a case study. Our objective was to explore the experience lived by a woman facing mastectomy and to study if decision to have or not a breast reconstruction would appear naturally in an open interview.
Methods
A 49-year old woman who have had a mastectomy without immediate breast reconstruction was interviewed. She will be called Sarah. Sarah was interviewed the month following her mastectomy with only one question: "Could you tell me what you are currently living?". The interview was analysed using interpretative phenomenological analysis.
Results
Three major themes emerged from the analysis. Firstly, Sarah talked about her expectations and concerns about her family (e.g., difficulties to communicate on cancer). Secondly, she expressed several fears (e.g., fear of death and how people may look at her). Thirdly, Sarah talked about her body modifications and emotional distress ("I'm not the same"). Surprisingly, Sarah never talked directly about breast reconstruction during the interview. Finally, Sarah never used the words "cancer", "mastectomy" and "breast reconstruction" to talk about her experience. .
Conclusion
The author will discuss the importance of family communication and the patient's state of mind one month after mastectomy. The results will be discussed in comparison with Sarah's husband interview and a literature review will enhance the findings.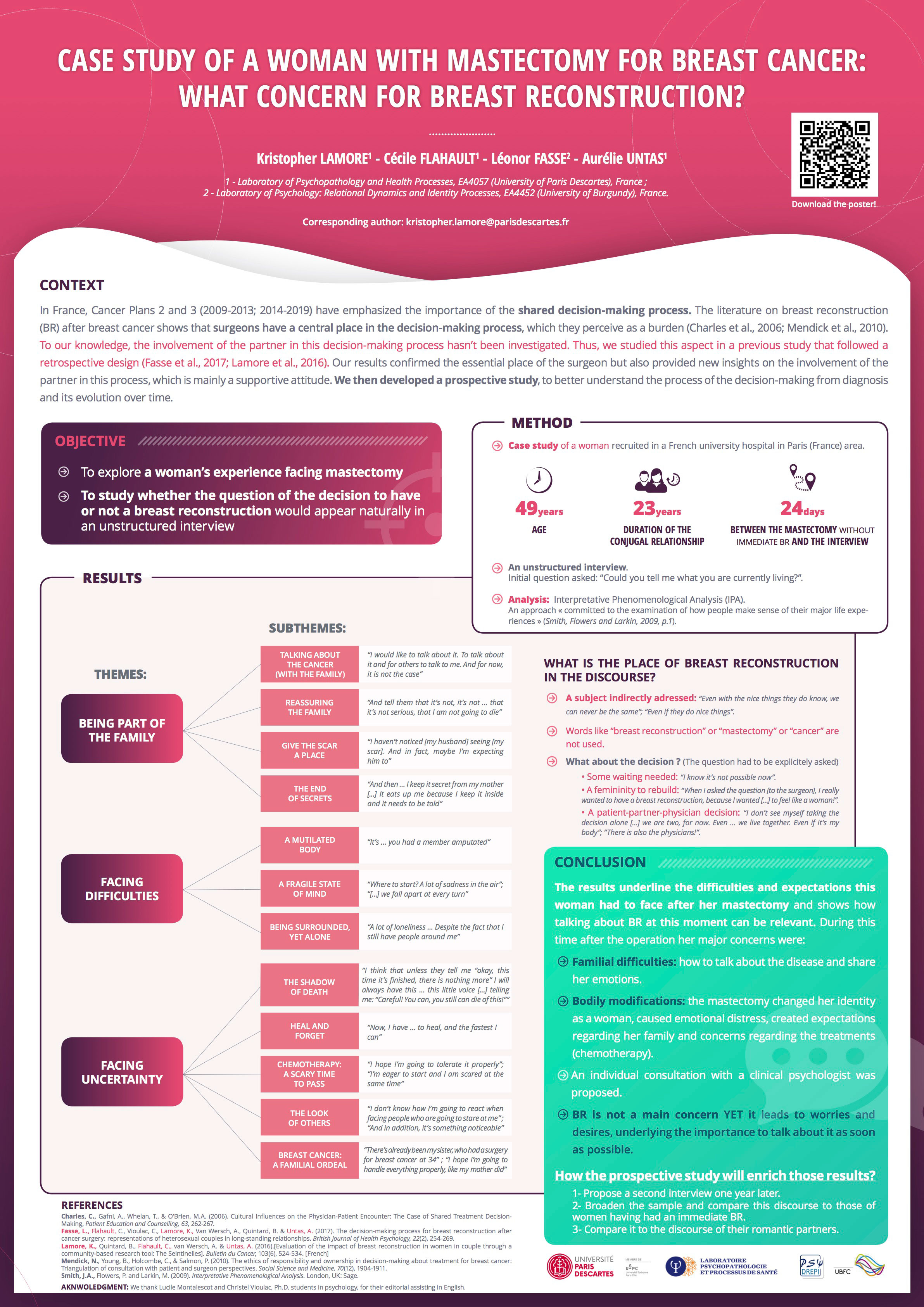 Authors
Lamore K.1
Flahault C.1
Fasse L.2
Untas A.1
1 – Laboratory of Psychopathology and Health Processes, EA4057, University of Paris Descartes, Boulogne-Billancourt – France
2 – Laboratory of Psychology: Relational Dynamics and Identity Processes , EA4452, University of Burgundy, Dijon – France
Financial support
None.
Poster presented at
19th Congress of the International Psycho-Oncology Society  (IPOS), august 14-18th 2017, Berlin, Germany